Wilson Makepeace
Born 1864 Newcastle
He served as part of Queen Victorias bodyguard.
Whilst on leave, he and his brother James went "out on the town" taking the milk train back to their parents home.
As the train rounded a bend and slowed down they jumped off the train at the back of their parents home.
This was something they had done many times before.
Unfortunately, the "Marsden Rattler" was coming in the opposite direction and Wilson was killed.
On hearing the news his mother Martha (nee Hutchinson) also died.
They were both interred in one grave in St.Peter's Churchyard, Harton Village on October 4th 1887.
James was buried in the churchyard just two years later so perhaps he was also injured in the accident.
Some views of the churchyard where Wilson, his mother and brother James are buried.
Unfortunately there headstone/s no longer survive.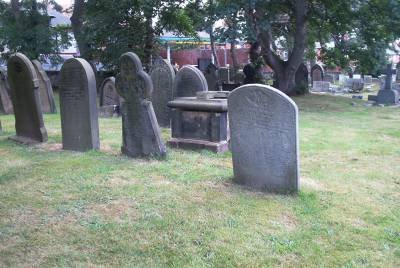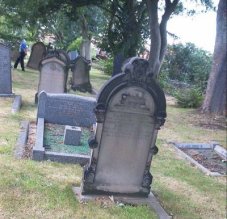 A worker called Smith who was killed on the building of the railway lies here
Last updated August 14th 2006