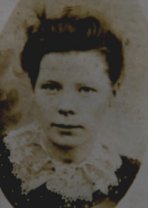 The only photo I have of my grandmother. And my grandfather
Children
Margaret(Peggie) was the oldest, born in 1900.
Here she is with her husband, David Bell and their son young Dave.
Young Dave did not marry and died shortly after his mother.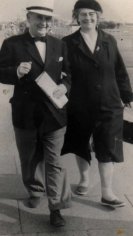 ---
George was the oldest son.
He went to sea then settled in Australia.



Here he is with his first wife and sons.
He ran away to sea, and spent most of his life as a sailor.

He emigrated to Australia and married Pearl.
Later he was divorced and married Aunt Ethel.
He lived well into his 80's in Sydney N.S.W
---
Molly emigrated to South Africa
as nurse to Sir Edgar Walton, High Commisioner to Cape Province in 1927. Three weeks after her arrival she met a young telephone engineer and three months later she married Jack Rizzo .
She lived in Port Elizabeth with her family, Pamela and Molly.

---
Thomas lived in Castlefordd until 1949 when he and his family emigrated to Australia.
A daughter Jenny was born soon after their arrival.
Jenny has been a big help with my family research

Uncle Tom as a young man

He returned to visit to England in the 1980's
---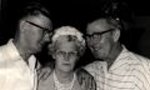 Molly has just arrived at Sydney airport in 1964 to spend a last holiday with her brothers George and Tom.
---
Edna May Makepeace was born 21 March 1909.
She was christened at Shadforth on 2 May 1909.
Edna died 31 July 1999 in Kent.
Edna was raised by Lizzie Harker after her mother's death in 1915.
She married Joseph Liddle son of George William Liddle on 30 August 1930.
Their first child Eleanor was born in the North East.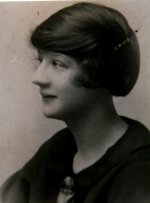 The above photos show Edna as a young girl and with her husband and daughters at a family wedding.
---
The four "girls" leaving Peg's flat in Battersea.
Molly was returning to South Africa where she died shortly afterwards.
This visit was the first time all four sisters had been together since their mother's death in 1915.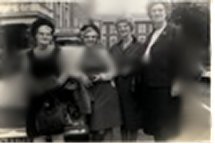 Following her husband's death, Molly came to England in the 1960's.
---
John William (Jack) lived in Castleford. His widow Ida and some of his family may still be there John William Makepeace was born 23 June 1912. He was christened on 21 July 1912 at Shadforth

---
Muriel was born 11 July 1914.
She was christened at Shadforth parish church on 12 August 1914
Her mother died when she was 7 months old and she was raised by her mother's cousin, Elizabeth Ann Wignall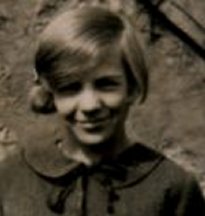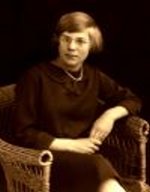 Muriel as a young girl, after an illness in her teens and as young engaged woman in the late 1930s.
---
After Emily's death, John William, with a young family to raise, first employed a housekeeper then married her.
They lived in South Shields then moved to Yorkshire in the Castleford area.
He and his wife Elizabeth had several more children, Athol, Derek, Joyce, Emily and June most of whom probably still live in the Castleford and Wakefield area.
I would love to hear from any of them
---
GEORGE MAKEPEACE joined the Merchant Navy in August 1917.
He gave his date of birth as about 1902 and his address as 130 Chichester Road, Westoe.
He sailed on the ARDANGEARG under "sealed orders" from August 1917 to October 1917. He received an award of £7:13;2 for services rendered on the occasion of the attack by enemy submarine on this ship on 29th August 1917.
His next boat from December 1917 to April 1918 was the WAR DAFFODIL, sailing for the admiralty.

He then attended a gunnery course at HMS Sunhill before joining the "War Balloon" sailing from South Shields in June 1918.
His next boat was the SS ADDINGTON sailing from South Shields in October 1918 followed by the WAR SHUSKE in December 1918. He was now a Cabin Boy (Still only 17 years old)
He sailed from South Shields on the HUNTSEND in August 1919 (O.H.M.S.)
OTHER SHIPS HE SERVED IN
Voyage
RAPIDAM
February 1920
South Shields
Atlantic
SS CORNISH POINT
April 1920
Antwerp
Montreal
SS GERENT
August 1920
South Shields
R.A.
SS TREDINNICK
March 1927
South Shield
U.S.A Australia
ORION
September 1947
Tilbury
Australian Mails
---
Last updated August 2006